When you think of passenger planes with two decks, the Airbus A380 and Boeing 747 probably come to mind. However, there's one other plane in service with two passenger decks, but not in the traditional sense.
I've mentioned this quirky setup on the blog in passing, though on a recent transatlantic flight I decided to take some pictures of the facility, and figured it would be a fun topic to discuss.
Lufthansa's A340-600s have lower deck bathrooms
Lufthansa has a small fleet of Airbus A340-600s. These planes were grounded during the pandemic, and Lufthansa was planning on retiring them, but ended up bringing them back due to the pace at which international travel demand recovered.
A handful of these jets are now back in service, and are based in Munich (I recently reviewed Lufthansa's A340-600 first class). As an avgeek, I absolutely adore the A340-600. It's such a sexy and distinctive plane — it's long, skinny, and has big engines. Amazingly enough, it's the second longest passenger plane in service, after the 747-8 (yep, it's longer than the A380 and 747-400).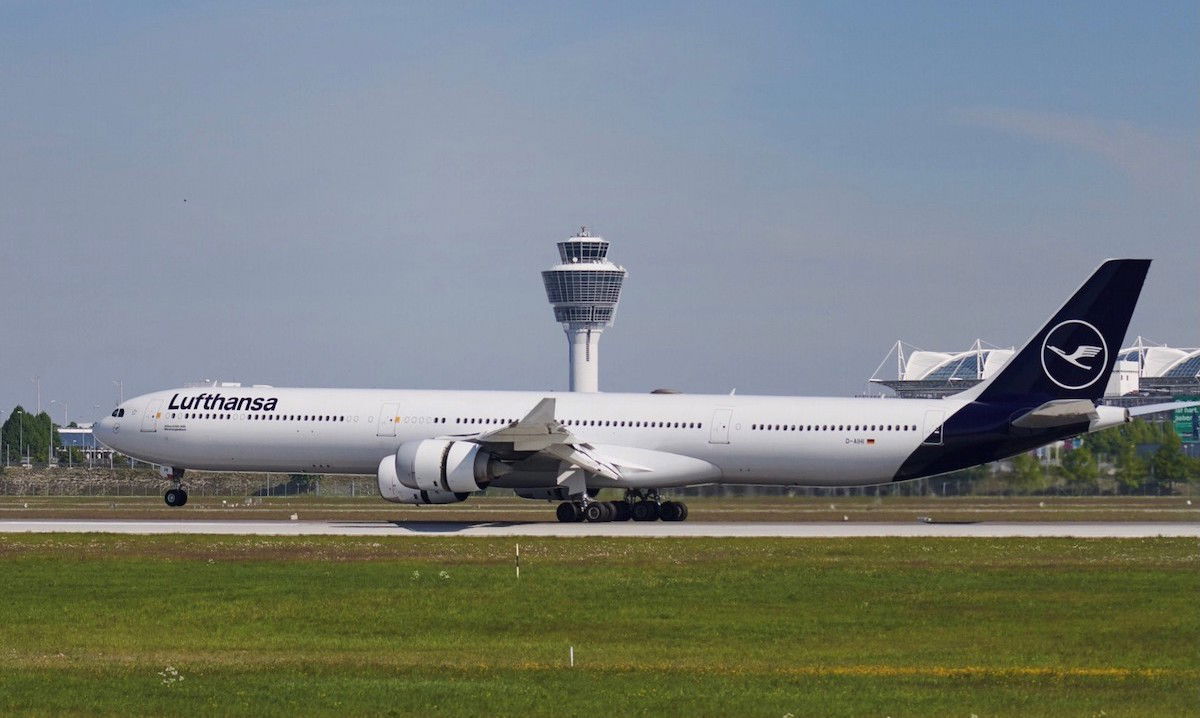 From a passenger experience standpoint, this plane has one feature you won't find on any other aircraft — there are lavatories on the lower deck, which is otherwise where the cargo hold is located.
The A340-600 has five doors on each side of the aircraft (10 total). In the middle of the economy cabin, near the fourth set of doors, you'll see a staircase leading down a level.

This tends to catch some people off guard, since most people have never seen aircraft lavatories underneath the passenger cabin.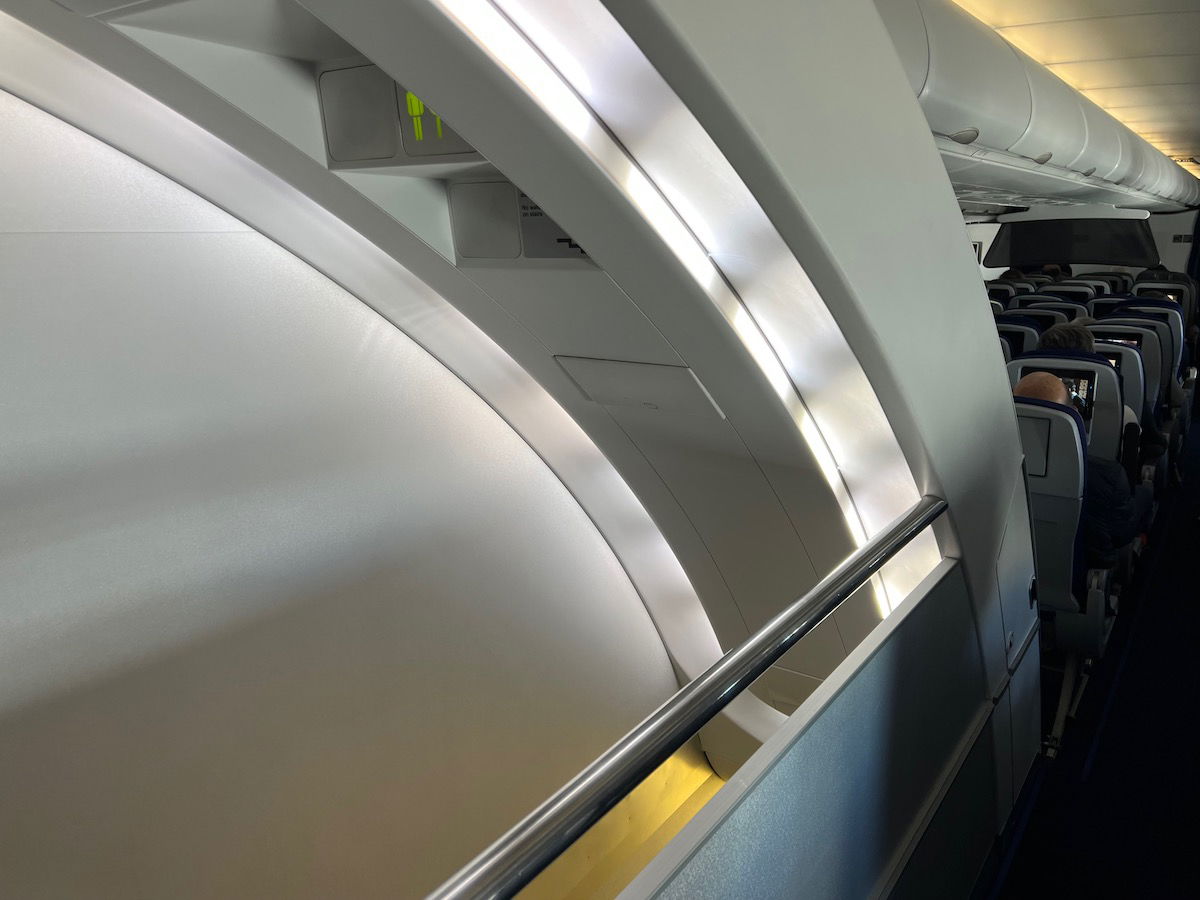 There's a gate by the stairs, just to make sure people don't accidentally fall.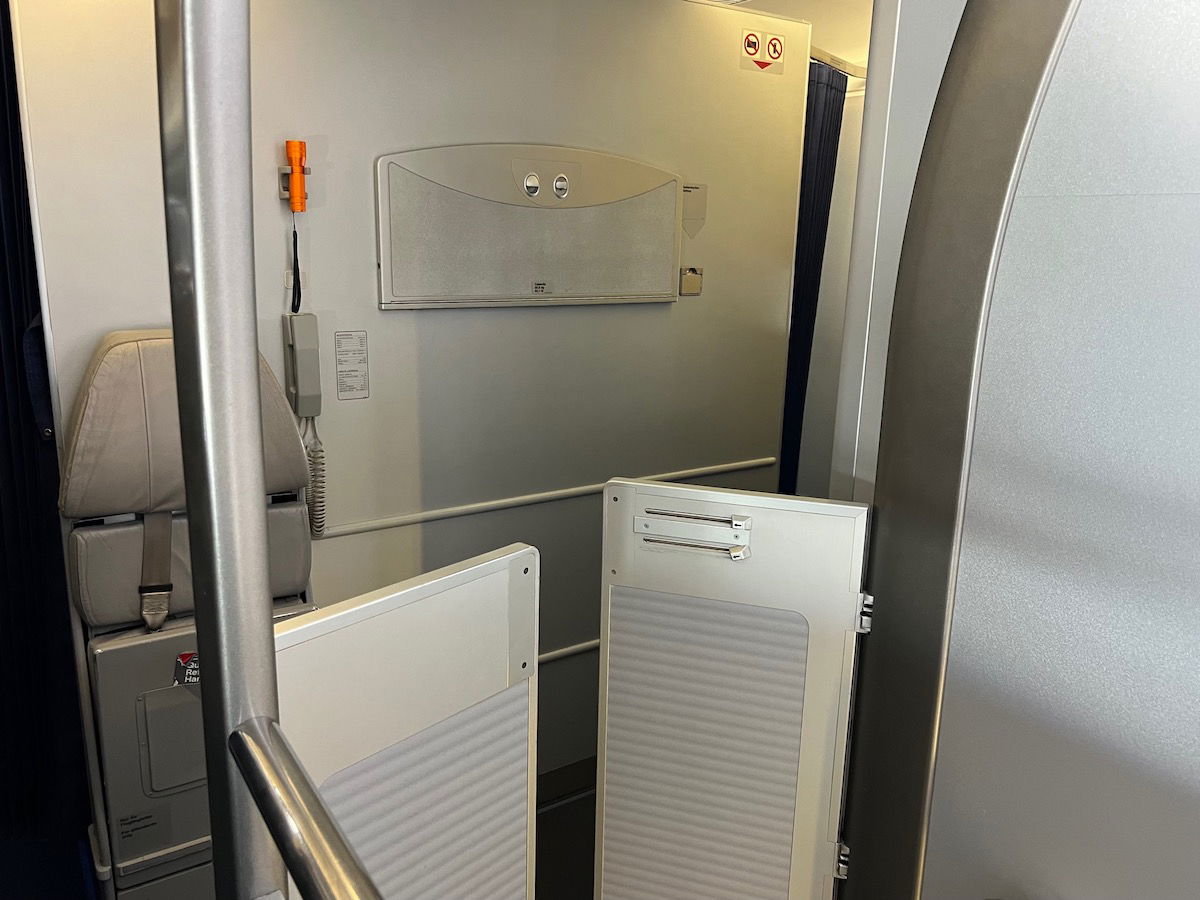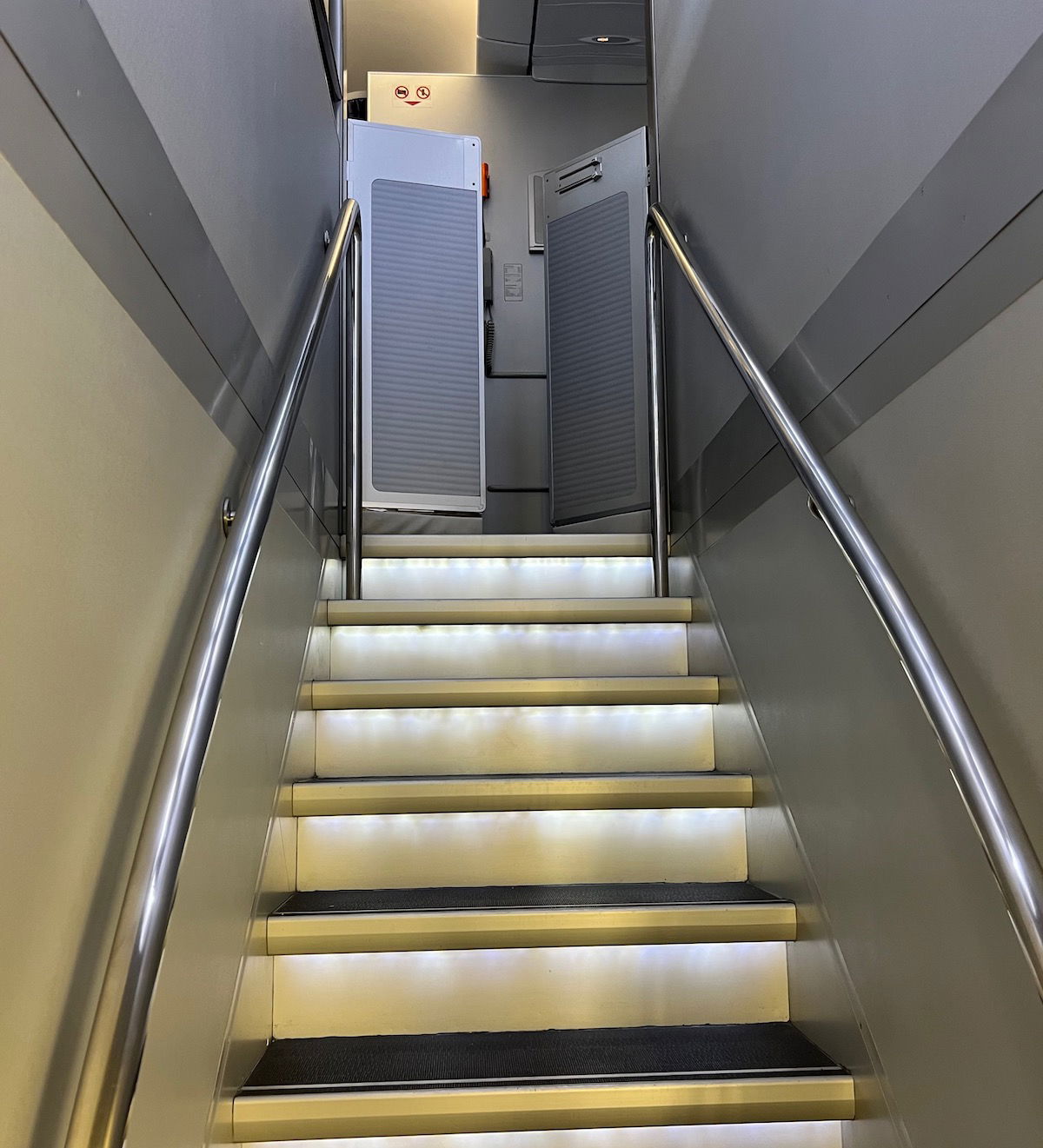 Once you're at the bottom of the staircase, you'll find five lavatories.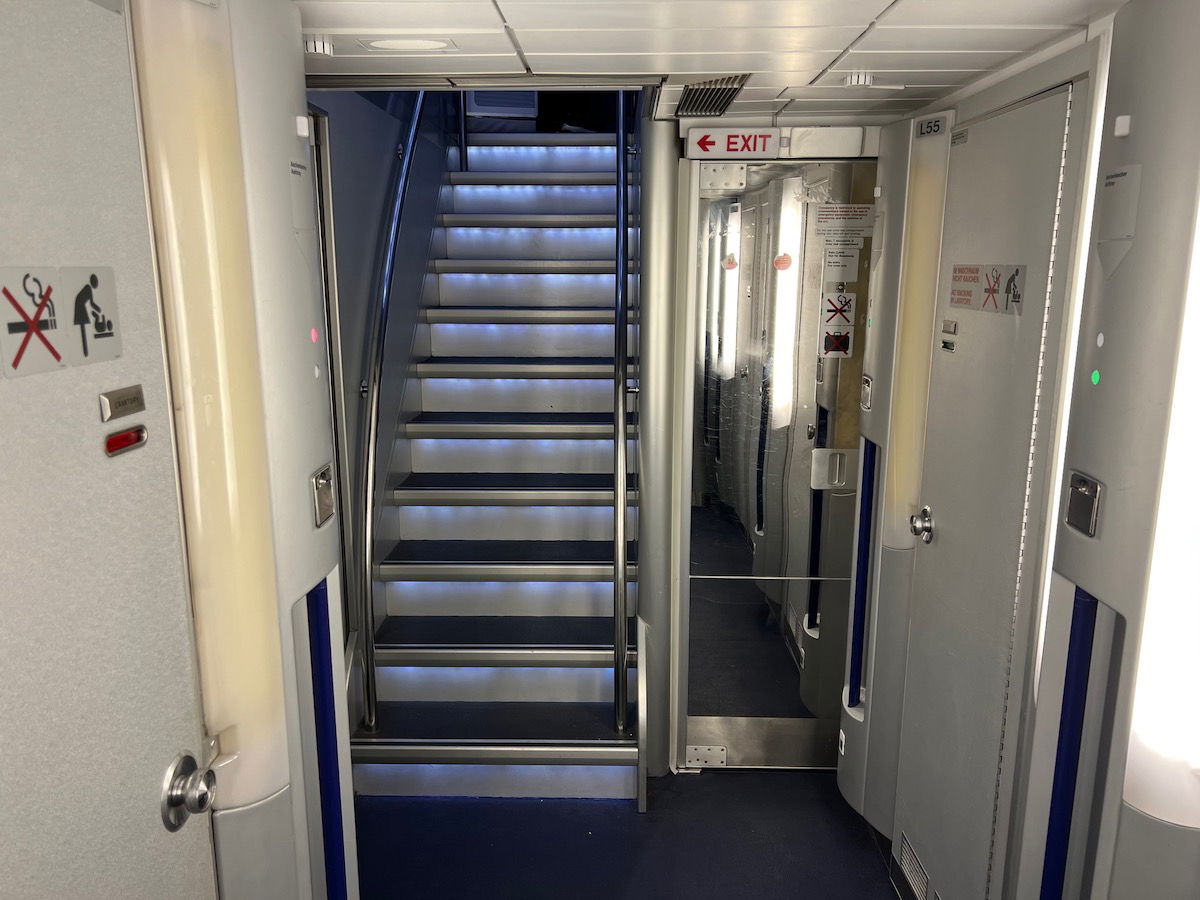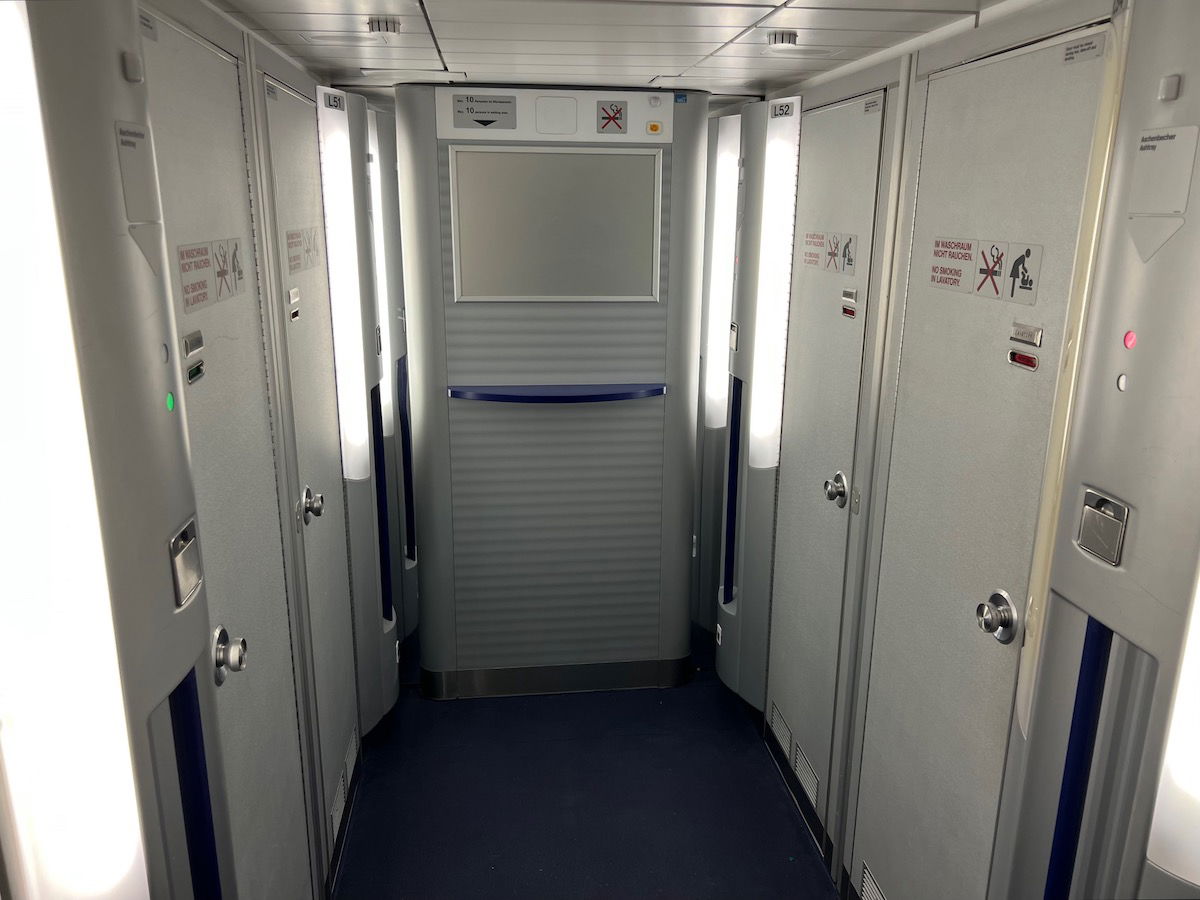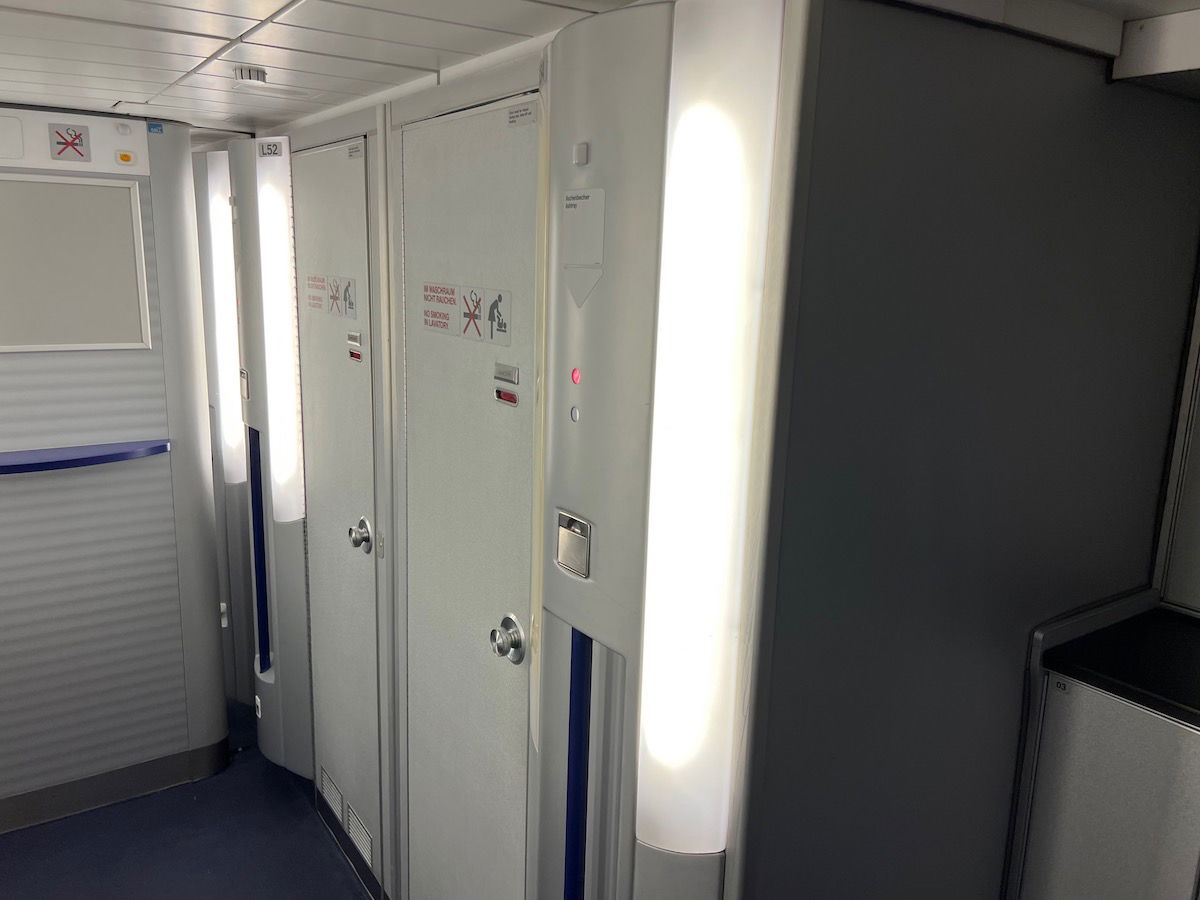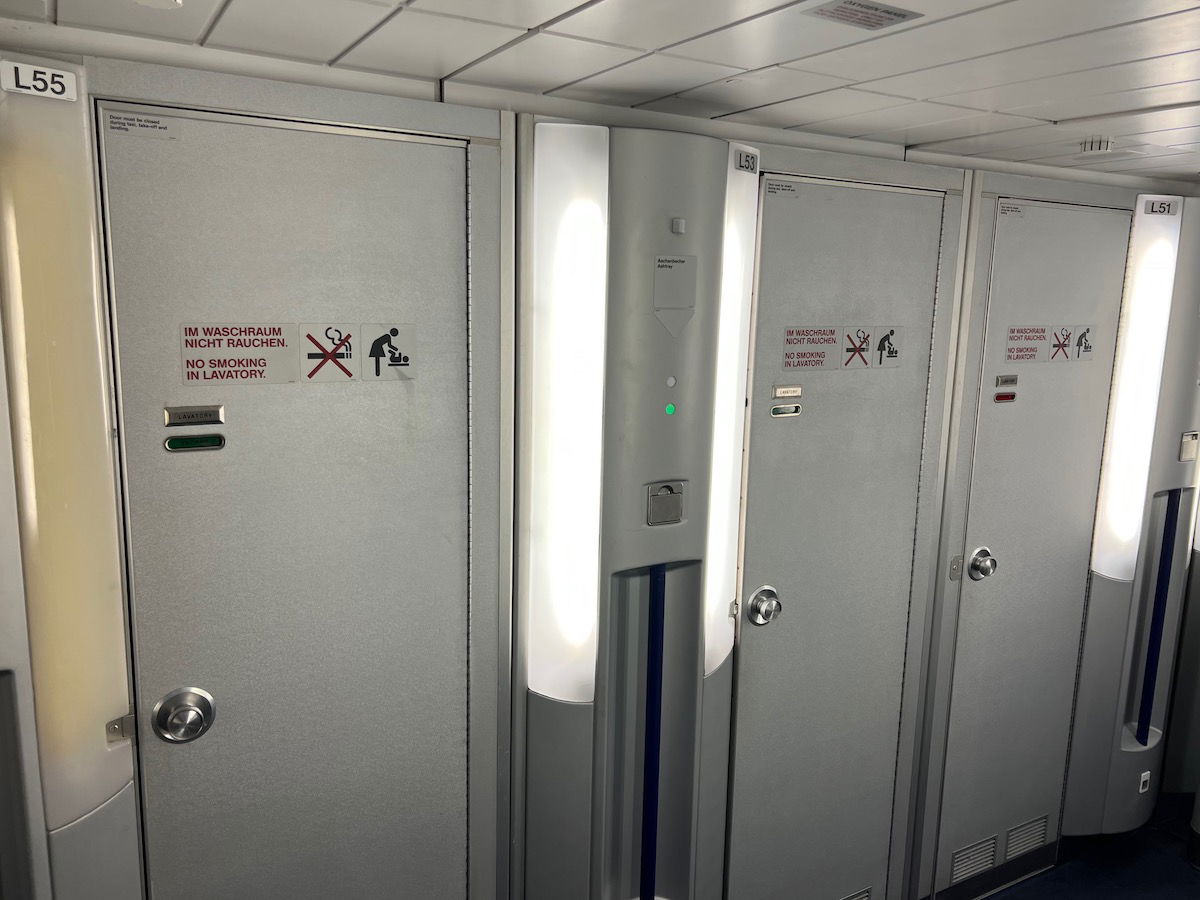 These lavatories are all pretty average and unremarkable, other than the fact that they're not on the same level as the passenger cabin.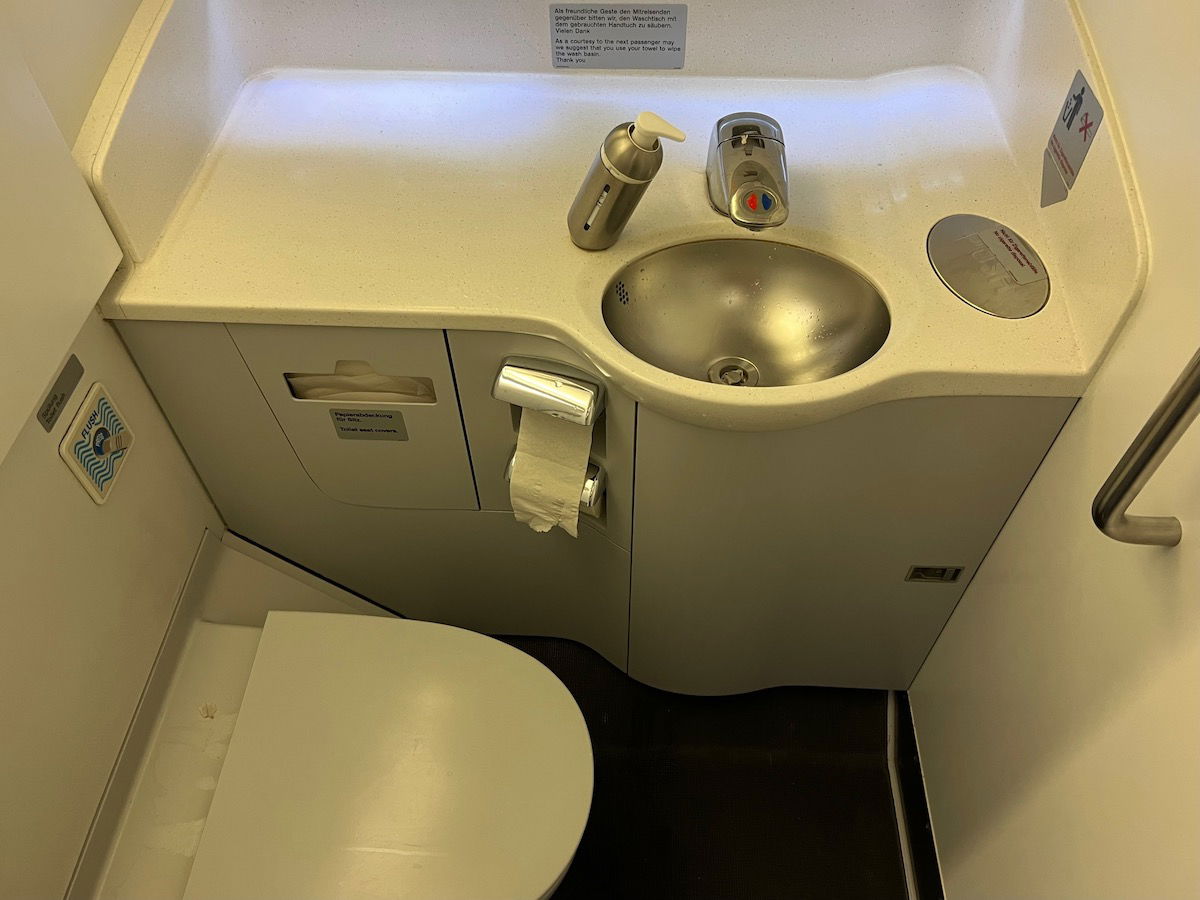 These are the only five lavatories you'll find in the premium economy and economy cabins, as the main deck of the plane otherwise just consists of seats and galleys. I do wonder what happens for those with mobility issues, given the lack of accessibility afforded by this setup. Can those passengers use the premium cabin lavatories, or…?
Why don't we see this on more jets?
I'm curious if any OMAAT readers have more background on how exactly these lower level lavatories came to be. Airlines are hyper focused on maximizing cabin space, since it allows them to maximize revenue, so this is an innovative concept.
On the surface, having lavatories not be on the same level as the passenger cabin seems smart, since it allows the airline to maximize cabin space. But it's also interesting that Lufthansa's A340-600s are the only planes in service that have this feature.
Admittedly there aren't many A340-600s left in service otherwise, but many aspects of the fuselage are similar on all A330 and A340 aircraft.
So I wonder how the economics of this play out:
Is it quite expensive to install these lavatories on the lower level, which is why this hasn't been done on most aircraft? Or are the seats that have to be removed to create the staircase also a major consideration (on the A340-600, six seats had to be removed)?
Is the big concern the impact this has on the ability to put actual cargo in the cargo hold? Most passenger aircraft are restricted by weight rather than volume when it comes to the cargo they can carry on long haul flights
Were these lower level lavatories an innovation from Lufthansa, was Airbus behind this, or some other company?
In an industry where airlines seem to follow one another so closely, I'm surprised that this has just been installed on these jets, and not any others.
Bottom line
Lufthansa's A340-600s have a unique feature, whereby all of the economy bathrooms are located on the lower level, where the cargo hold is. In the middle of the economy cabin you'll find a staircase, which leads down to an area with five lavatories.
While minor in the scheme of things, I've always been fascinated by this facility, and I'm curious if anyone has more background.
What do you make of Lufthansa's special lower deck bathrooms on the A340?