Qatar Airways A380 First Class: Is Business Class Just Too Good?
Hello from Perth! I'm just in the middle of a quick surprise round the world trip with my dad. After flying Etihad Airways' Boeing 787 first class and Qatar Airways' Boeing 737 MAX first class, our next segment was from Doha to Perth in Qatar Airways' Airbus A380 first class. This was a pretty cool flight, as we had the first class cabin all to ourselves, which is always a treat.
As y'all know, I'm a huge fan of Qatar Airways' inflight product. I think the carrier's long haul business class and short haul first class are the best in the world. By comparison, Qatar Airways' long haul first class is quite unmemorable. While I'll have a full trip report soon, I wanted to share some initial thoughts.
Qatar Airways isn't really committed to first class
To start, I think it's important to understand Qatar Airways' philosophy with long haul first class. Over the years, Qatar Airways CEO Akbar Al Baker has gone on record as saying that there's no need for first class at the airline, because the carrier's famous Qsuites business class is so good.
Now, while we can debate the merits of that statement, the reality is that this mentality is reflected in Qatar Airways' fleet strategy. Qatar Airways isn't installing first class on any of its newly delivered jets at the moment. The airline only has long haul first class on the handful of Airbus A380s that are currently in service, as well as a few Boeing 777s that Qatar Airways took over from Cathay Pacific.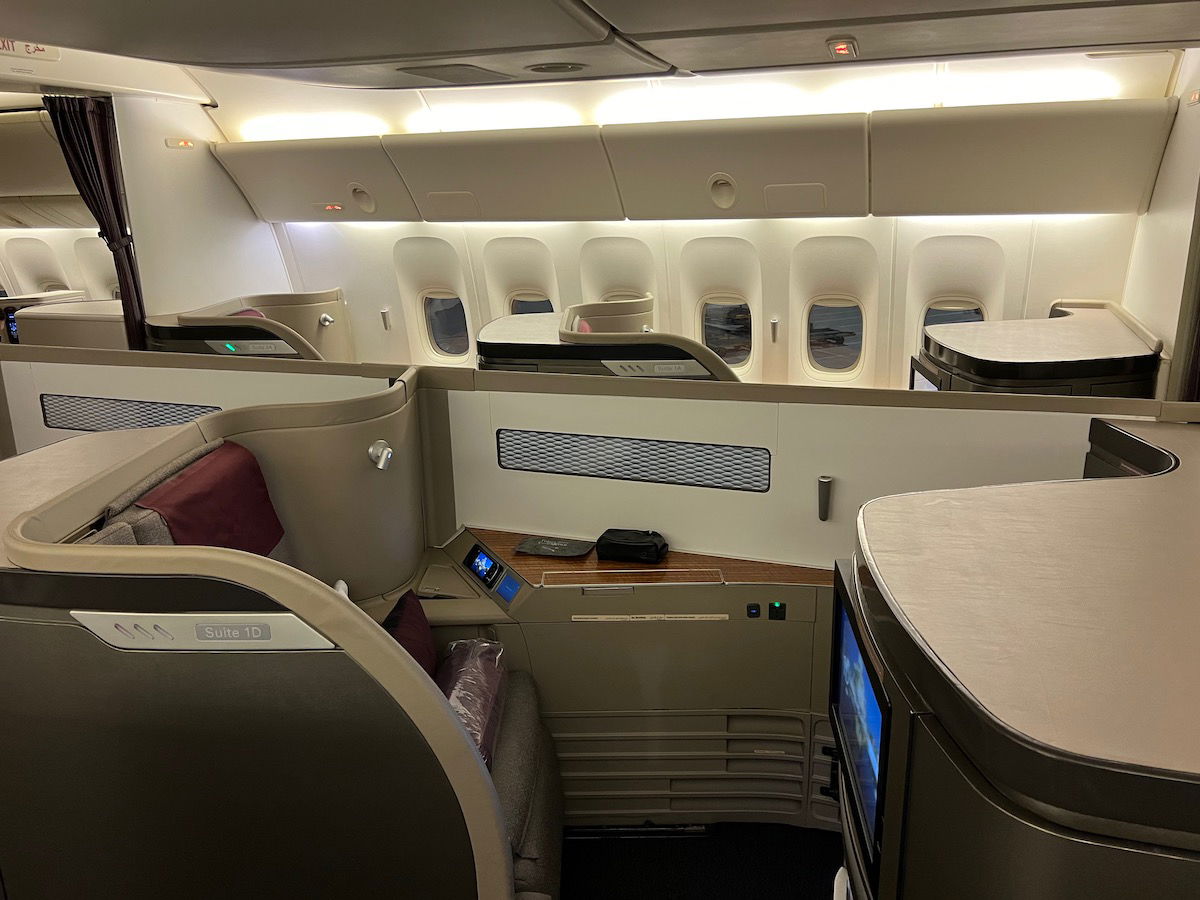 Qatar Airways does have some Boeing 777-9s on order, and the airline might install a first class product on those planes, though in light of delays, it's anyone's guess when those aircraft are delivered.
My point is simply that Qatar Airways is obviously focused on offering a world class business class product, and first class is less of a priority. Fair enough, I guess…
Qatar Airways' elegant A380 first class cabin
Qatar Airways' Airbus A380 first class cabin is incredibly elegant, no doubt. First class is located at the front of the upper deck, and consists of eight seats, spread across two rows in a 1-2-1 configuration. These seats aren't cutting edge, but I find them to be really cozy and comfortable.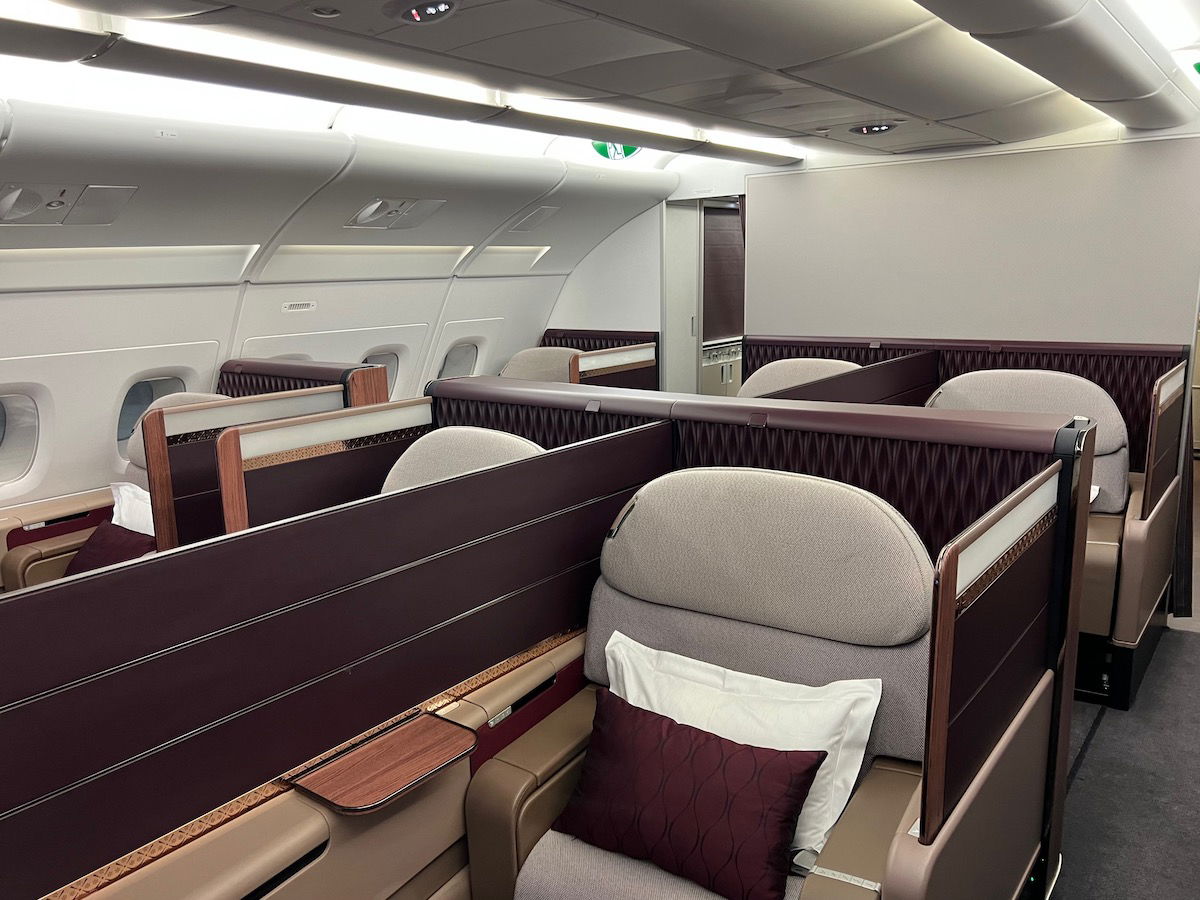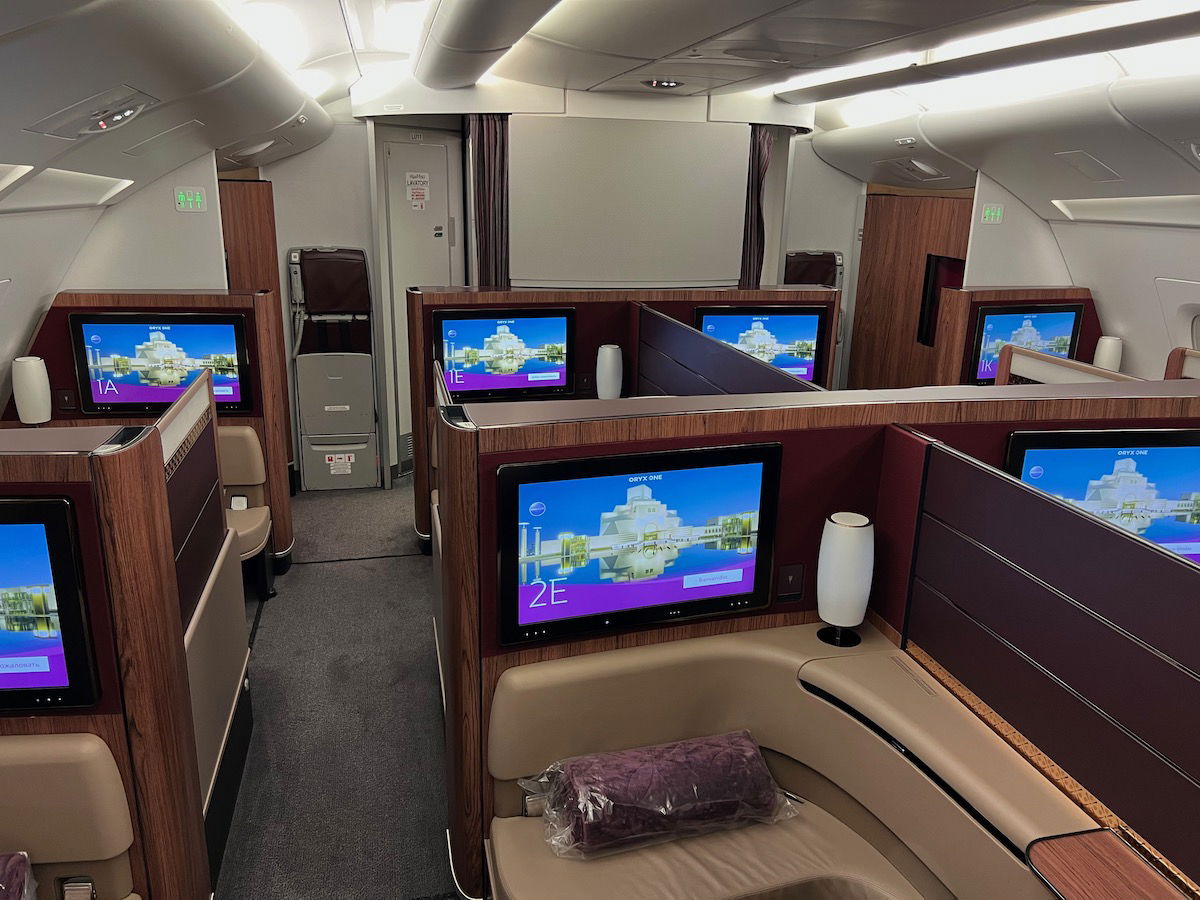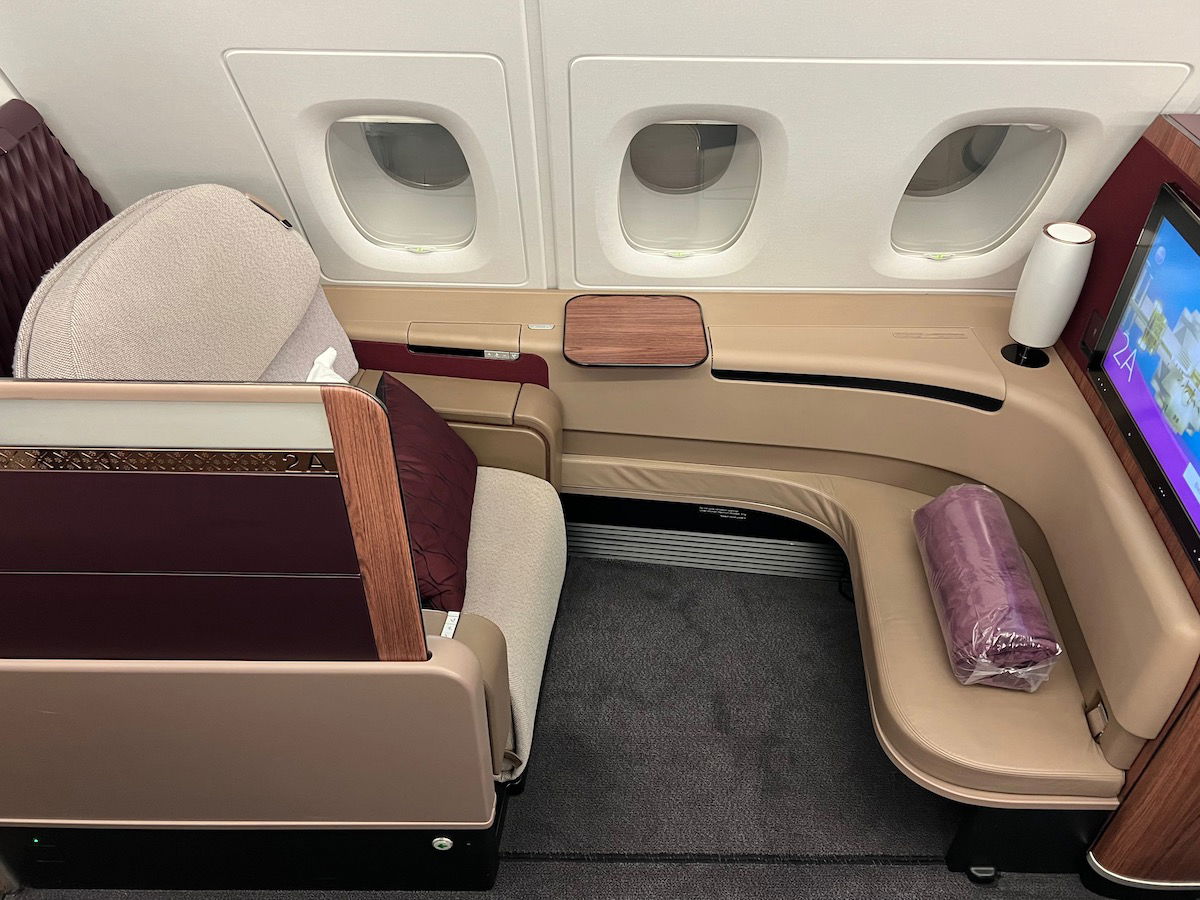 When you have the first class cabin all to yourself, who really needs doors anyway? 😉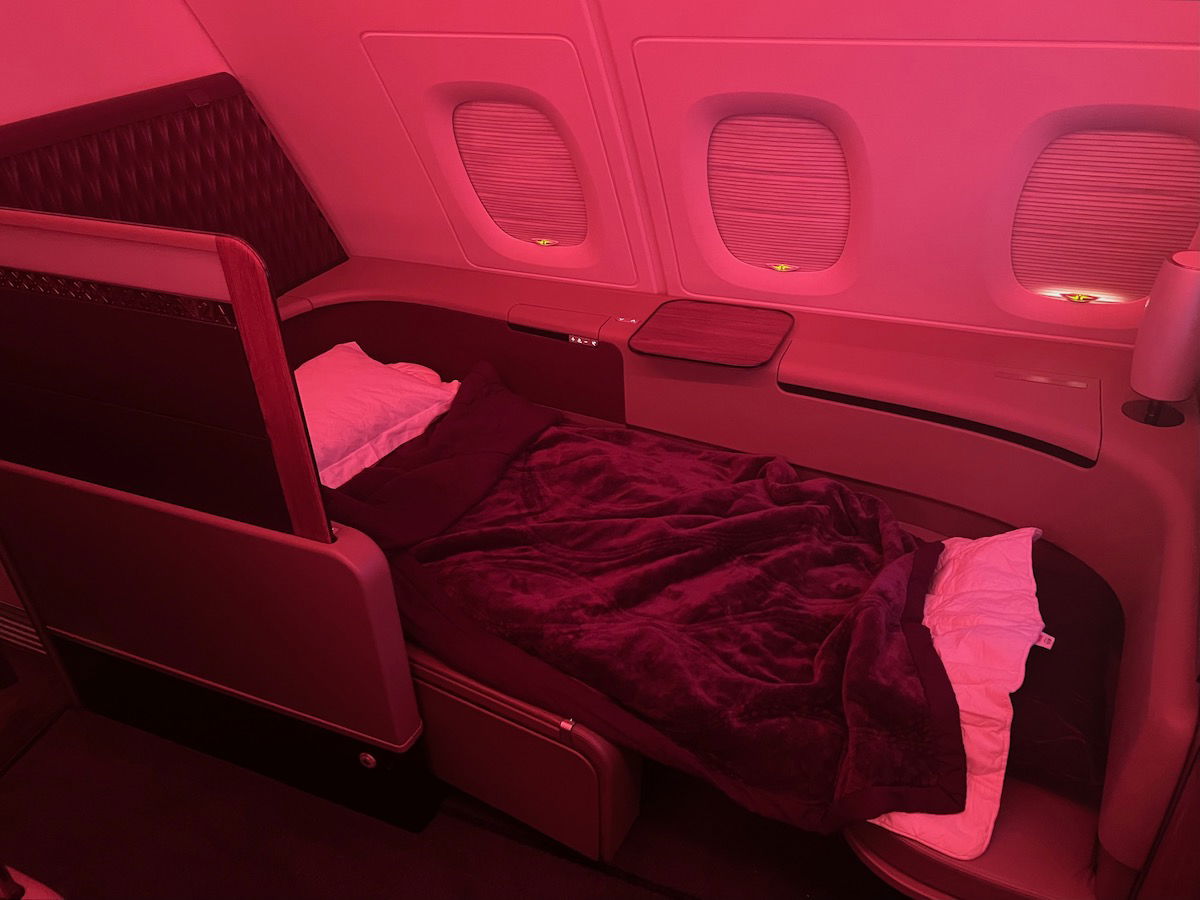 While the A380 doesn't onboard showers, unlike at Emirates, there are two huge lavatories at the front of the cabin.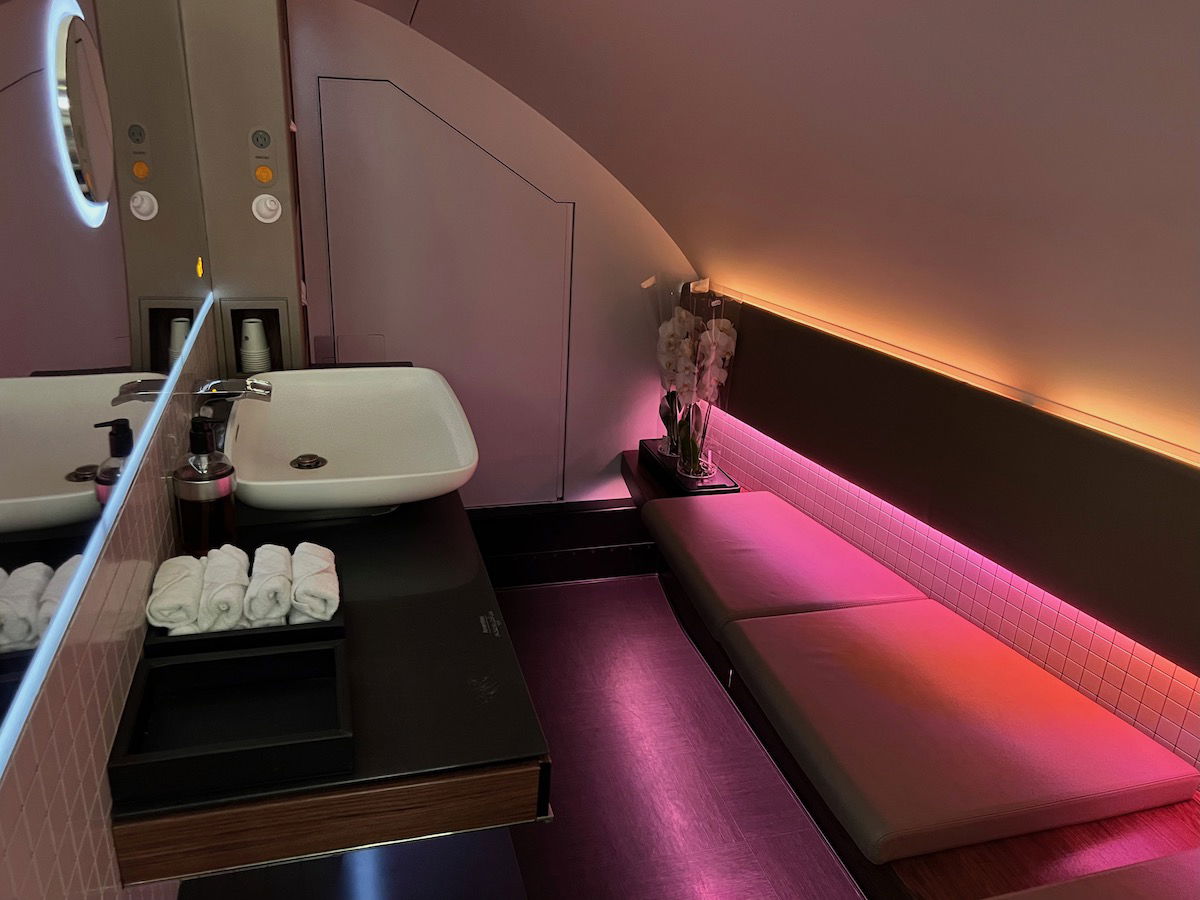 Furthermore, there's a shared first and business class bar behind business class, which I think is even prettier than Emirates' A380 bar (though the drink selection isn't as impressive).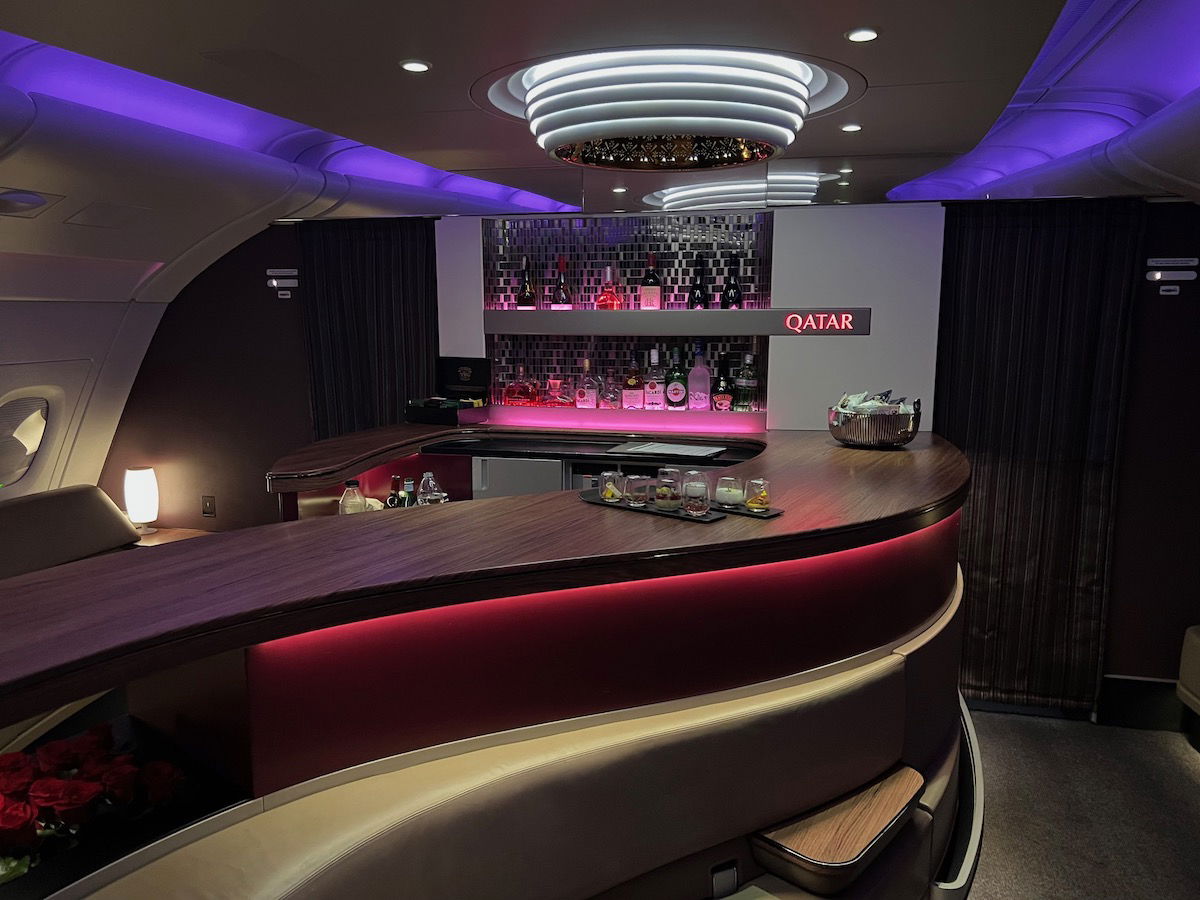 At this point the A380 cabins aren't cutting edge (especially compared to Qatar's newer aircraft), and there are a few things in particular that I don't like:
Qatar Airways has OnAir Wi-Fi on its A380s, which is nearly unusable when it's functioning properly, and on this flight it was even broken altogether
I don't like how you can't view the entertainment options through the huge screen, but rather only through the handheld monitor, which isn't ideal when you're trying to browse hundreds of entertainment options
The AC power outlet is poorly designed, because it's deep inside a compartment, so I couldn't even plug in my computer charger, because it has one of those "boxes" around it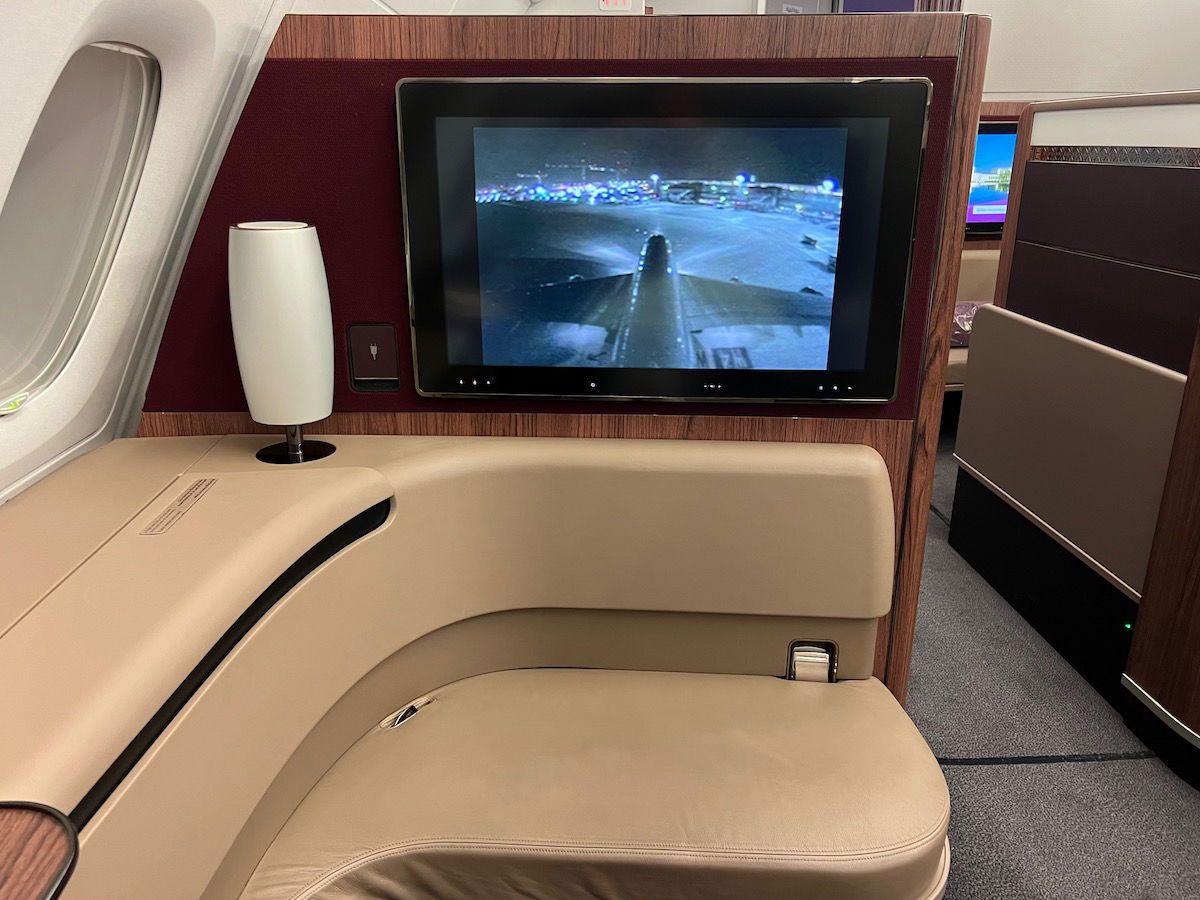 Qatar Airways' average first class soft product
Here's where Qatar Airways first class feels like an afterthought. Qatar Airways business class is absolutely amazing, with a better experience than you'll find on just about any airline. The catch is that you get almost the same experience in first class.
The pajamas and amenity kits are the same.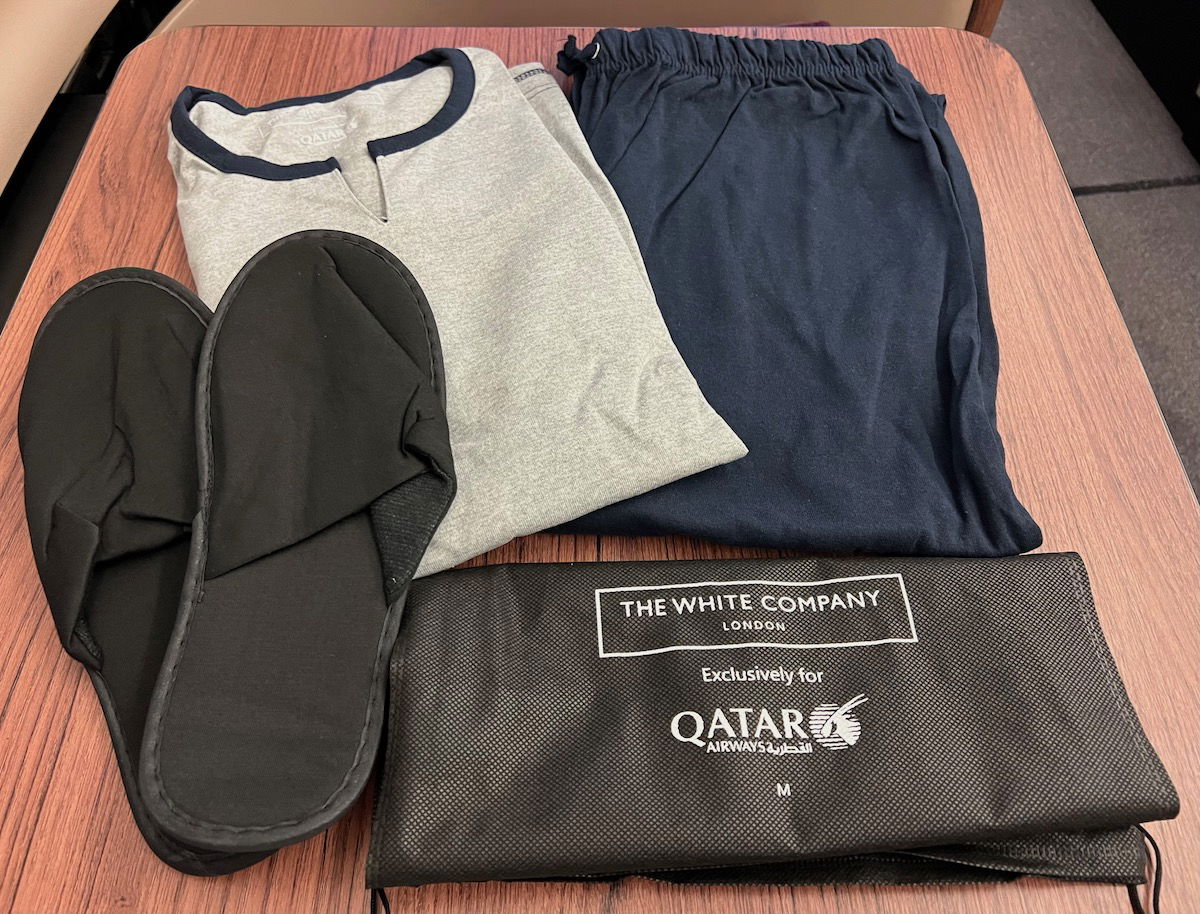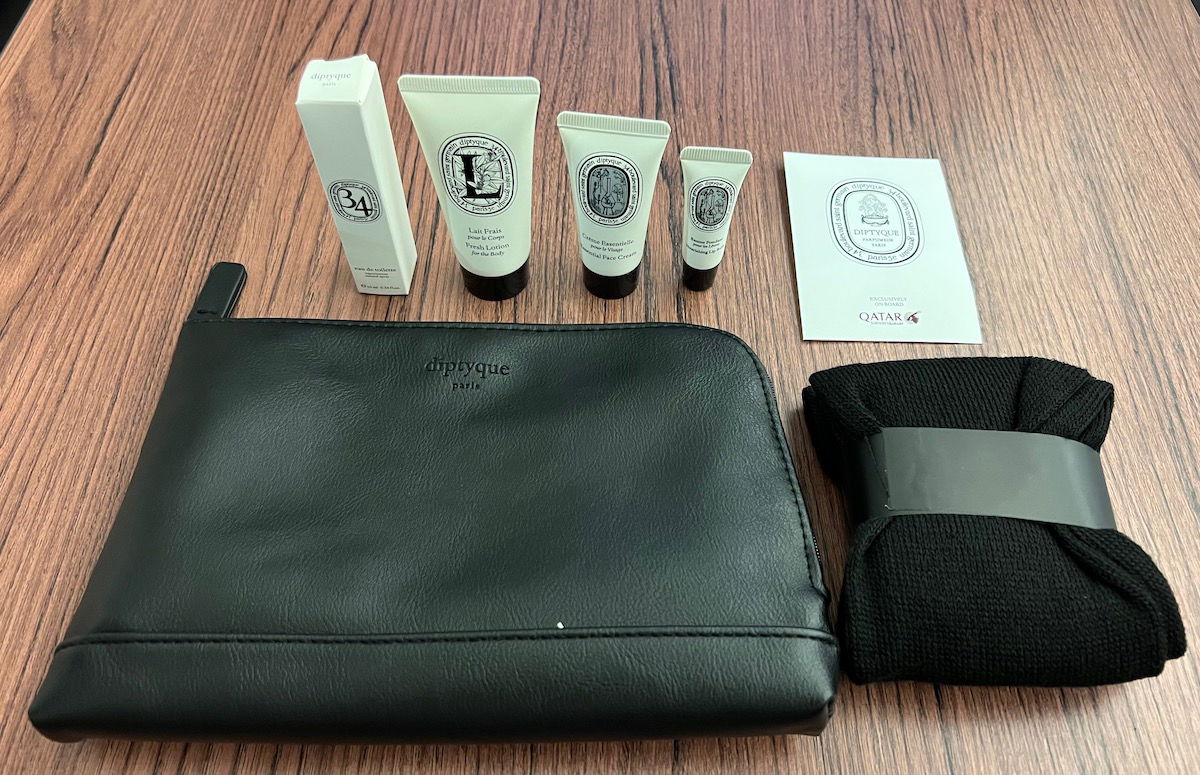 The bedding is virtually the same.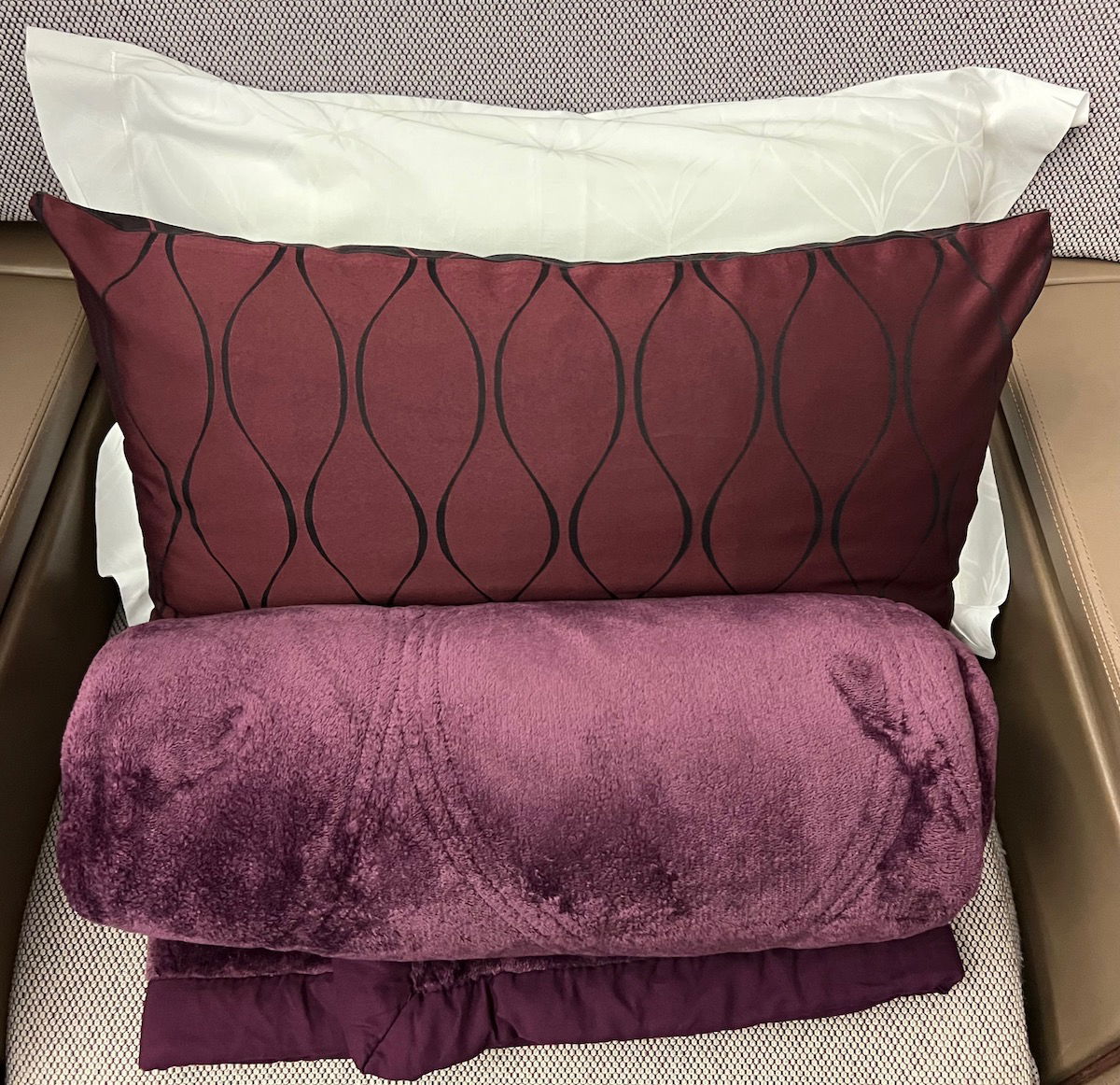 A vast majority of the food and beverage options are the same. The way that tables are set is the same.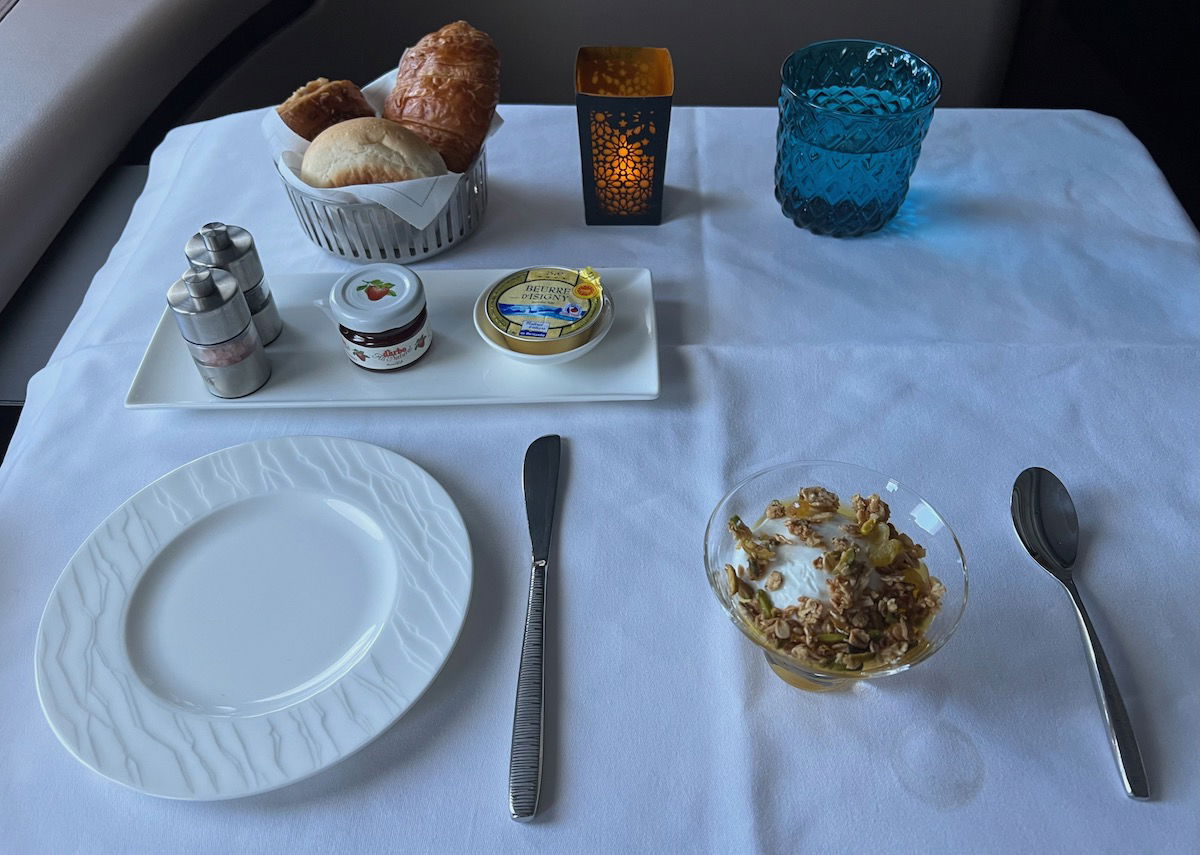 Qatar Airways first class is basically business class, but with more attentive service, better champagne, and caviar. Other than that, it's virtually identical. Personally I'd almost rather fly a Qatar Airways A350 with Qsuites and high speed Wi-Fi than a Qatar Airways A380 first class with virtually unusable Wi-Fi.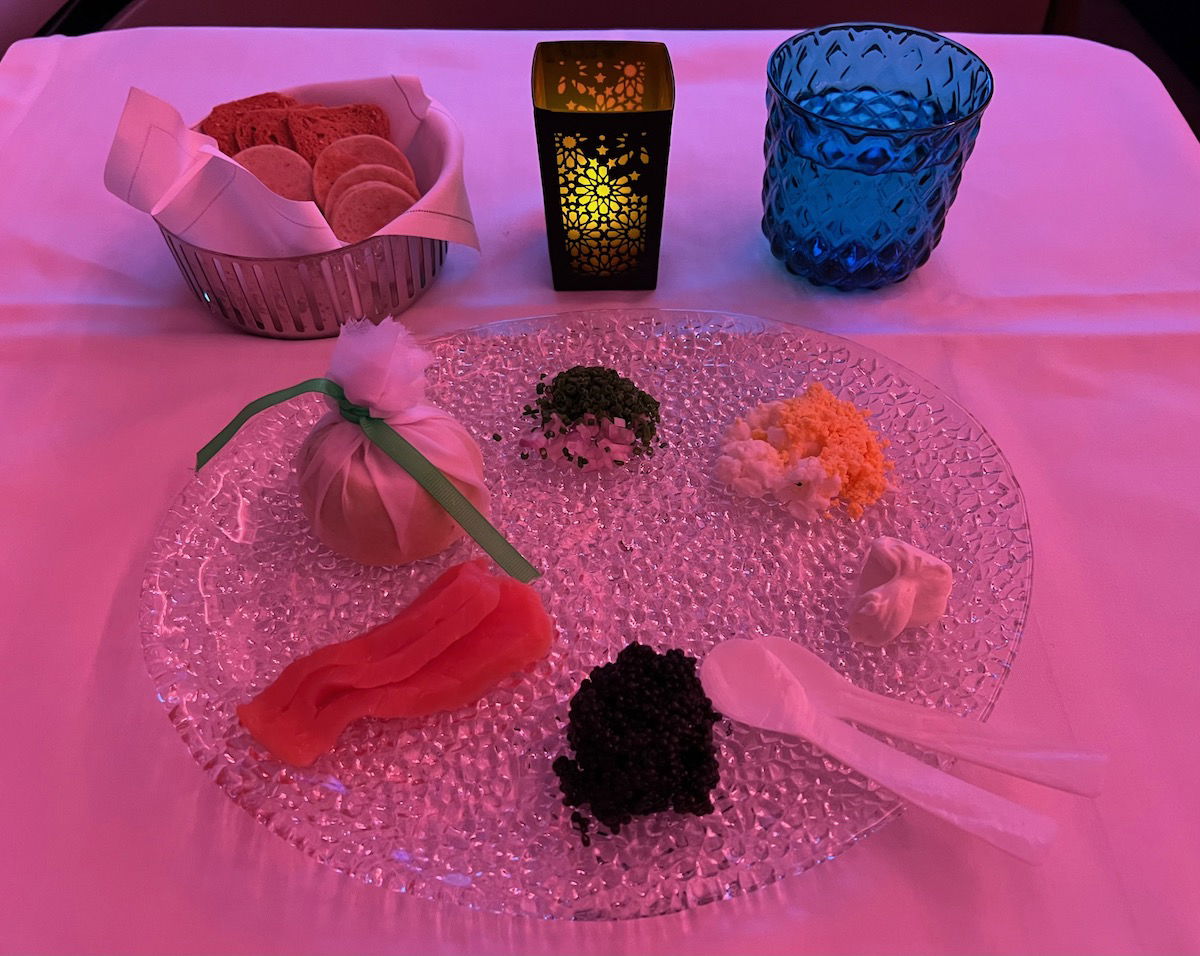 I feel like Qatar Airways and Emirates Airline are almost the opposite in their approach to first class. Emirates' business class is lackluster (especially on the 777, which is the backbone of the carrier's fleet), while Emirates goes all-in on its first class soft product, from unlimited caviar, to Dom Perignon, to Hennessy Paradis.
Meanwhile Qatar Airways has one of the best business class products in the world, while I'd say its first class is just middle of the pack. The whole thing is strange to me, because Qatar Airways is laser focused on its passenger experience. If you're going to offer one of the best business class products in the world, wouldn't you expect first class to be similarly competitive?
And like I said, this is only an "issue" because Qatar Airways' business class is so good. If a company sells two luxury goods and one is significantly more expensive than the other, I think it's reasonable to expect it to be a bit more differentiated.
Bottom line
We had a great flight in Qatar Airways' A380 first class, especially as we had the cabin to ourselves. However, I have to agree with Qatar Airways' CEO, in saying that there's no need for the airline to have first class, because its business class is so good. Or at a minimum, the airline chooses not to differentiate its first class product all that much from business class, and I'm not sure the airline is doing itself any favors with that.
What's your take on Qatar Airways' A380 first class?