Qatar Airways' Double Avios "Flex" Awards: Not A Bad Deal
In the miles & points world, Qatar Airways is one of the most popular airlines to redeem points on, given the carrier's excellent premium products. Often it's possible to redeem partner airlines miles on Qatar Airways, which can be a spectacular value.
In this post I wanted to highlight the more flexible award options available through Qatar Airways Privilege Club, for those situations where there's not "saver" award space. This isn't talked about much, but is at least worth being aware of.
Access more Qatar Airways award availability
Nowadays the Qatar Airways Privilege Club loyalty program uses Avios as its rewards currency. This is awesome, not just because you can freely transfer Avios between the different programs that use this as their currency, but also because the value proposition of some redemptions has been improved.
For situations where Qatar Airways has saver level award space, it could make sense to book through a program like American AAdvantage. What many people don't realize is that Qatar Airways Privilege Club offers more flexible awards to its own members:
These awards cost twice as many Avios as you'd normally pay
This opens up additional award availability; don't expect last seat award availability, but it does open up considerably more award space in all cabins
This is available exclusively through Qatar Airways Privilege Club, and not through any other programs
You can tell that an award is only available with this redemption option when you see "2x Avios" listed next to the redemption option when doing an award search on Qatar Airways' website or app
Let me give an example. Take a Doha to Sydney flight that's operated by an Airbus A380. On a random date that I picked, there's economy award availability at the regular price, while there's business class and first class award availability for double Avios.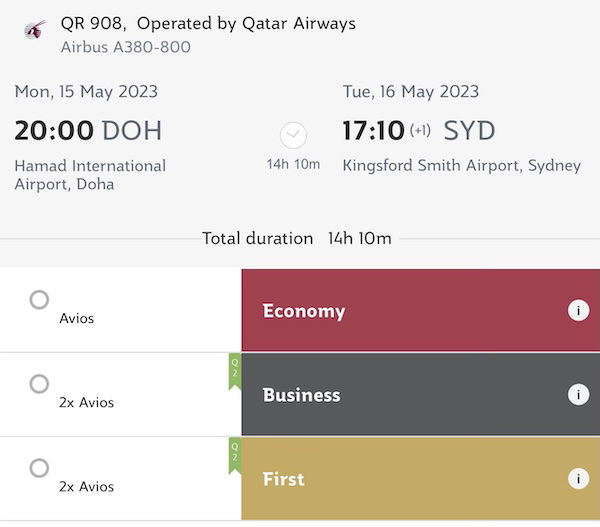 So for example, rather than paying the regular 105,000 Avios for first class on this route, you'd instead pay 210,000 Avios.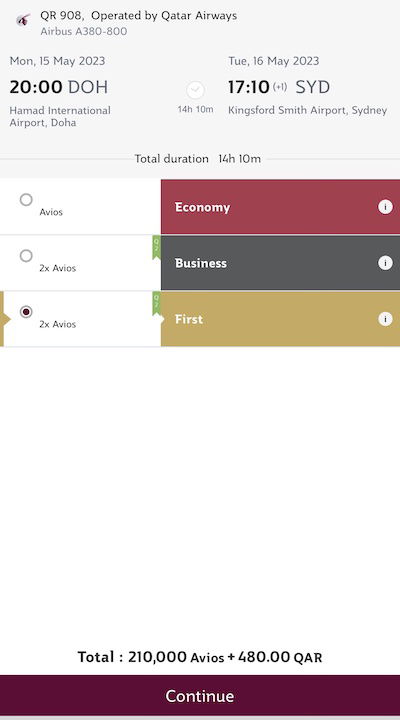 Meanwhile instead of paying the regular 70,000 Avios for business class on this route, you'd instead pay 140,000 Avios.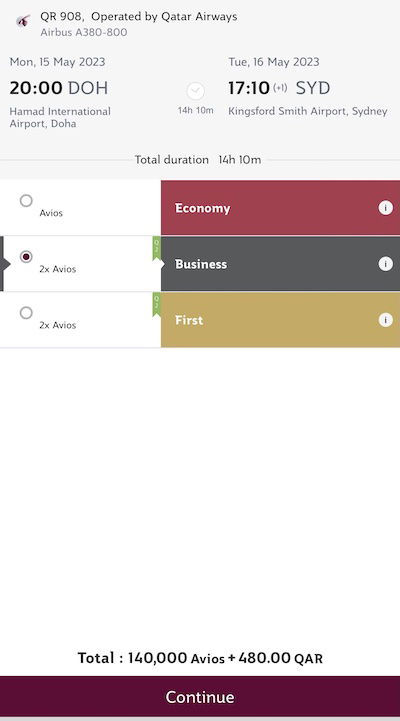 Should you redeem Qatar Airways Avios this way?
I'm not suggesting this is some amazing deal that everyone should take advantage of, though I think it's worth being aware of, and worth using strategically:
This could be useful if you have a particular flight you really want to take, but there's no saver level award availability
This could be valuable if you find one award seat at the saver cost, and then are willing to book one award seat at the higher cost
We've seen a lot of inflation with rule-buster awards nowadays, so by comparison, "only" having to pay double Avios for some awards isn't so bad; just to compare this to other carriers in the region, Emirates Skywards doesn't have any "flexible" reward options, while Etihad Guest often charges 10x as much for these kinds of awards, though does offer last seat availability
Keep in mind that Avios are so easy to come by, given that you can transfer Avios between accounts, and we often see transfer bonuses from major transferable points currencies to British Airways Executive Club, which you can then in turn convert into Qatar Airways Privilege Club Avios
I should also emphasize that nowadays Qatar Airways Privilege Club's double Avios awards are competitively priced to Emirates Skywards' saver awards. For example, between Dubai and Sydney in first class, Emirates charges 180,500 Skywards miles plus $800 in taxes & fees.
Meanwhile Qatar Airways' higher priced first class awards from Doha to Sydney cost 210,000 Avios plus $132 in taxes & fees. I'd say that the Qatar Airways award represents a better value, as I'd rather redeem 29,500 additional points than pay an additional $650+ in cash.
Bottom line
While it's not talked about much, it's worth knowing that Qatar Airways Privilege Club gets you access to more award availability on some flights by redeeming double Avios. While this isn't ideally how I'd redeem my Avios, there are situations where this could come in handy, especially if you really want to take a flight and there's no award availability.
The double Avios pricing isn't half bad, especially when you consider that you can transfer points from any "flavor" of Avios, and can even take advantage of transfer bonuses.
Are there situations where you could see Qatar Airways' higher priced awards being worthwhile?