San Antonio Spurs win NBA draft lottery, right to draft Victor Wembanyama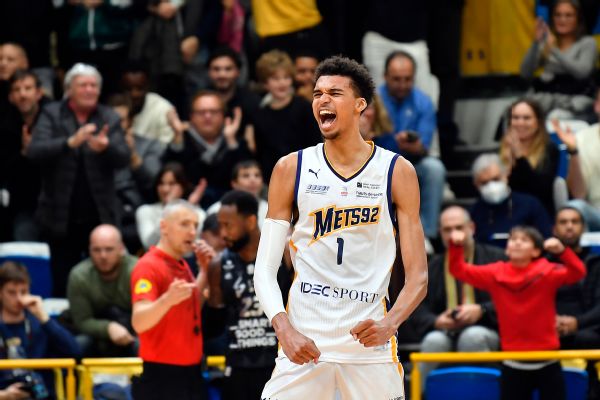 The San Antonio Spurs have won the 2023 NBA draft lottery and the right to select French super-prospect Victor Wembanyama with the No. 1 overall pick.
The Charlotte Hornets, Portland Trail Blazers, Houston Rockets and the Detroit Pistons round out the top five.
The Pistons, Rockets and Spurs were tied with the best odds to land the top pick at 14%, followed by the Hornets (12%) and Blazers (10.5%).
Wembanyama, 19, is perhaps the most hyped NBA prospect since LeBron James in 2003. At 7-foot-5, he is considered a generational talent with all the tools, including the ability to create his shot off the dribble, shoot step-back 3s and use his 8-foot wingspan to protect the rim.
Other coveted prospects in the 2023 draft include Alabama's Brandon Miller and G League Ignite's Scoot Henderson.
This is the third time the Spurs will have the top pick in the draft. The other times, they took Tim Duncan in 1997 and David Robinson and 1987.
With the league-worst Pistons (17-65) receiving the fifth pick, it marks the fifth straight season in which the team with the worst record has not selected first overall.
The full 2023 draft lottery order:
1. San Antonio Spurs
2. Charlotte Hornets
3. Portland Trail Blazers
4. Houston Rockets
5. Detroit Pistons
9. Utah Jazz
10. Dallas Mavericks
11. Orlando Magic
13. Toronto Raptors